Posted by Dancer's Closet on
Posted by Dancer's Closet on
Monday 11/15 through Saturday 11/20 our prices are FALLING!
It's our EARLY BLACK FRIDAY SALE! We'll be closed for the Thanksgiving weekend so shop now, in stores or online, for all the deals!
Posted by Dancer's Closet on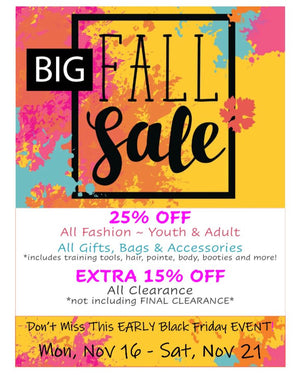 It's time for our Big Fall Sale! We close for the Thanksgiving Holiday, so please shop our Early BLACK FRIDAY & SMALL BIZ SATURDAY Sale this week!
Online use code: BIGFALL25
Happy Thanksgiving!